By: Tom Brussow
Owner, Sunsational Beach Vacations
One of the most important buying decisions you will have associated with your beach vacation is the purchase of travel insurance. As your beach vacation specialists, we want to provide you with all of the facts so that you can make an informed decision.
Travel insurance, like all insurance it would seem, is "something you really only need when you really need it". What I mean is that people tend to think they won't need it so why spend the extra money. I can tell you, from our experience, that this is in fact true. In all likelihood, you will not need the travel insurance you choose (or choose not) to purchase.
However, if you indeed end up in a situation as one of the few who do need it, you will be very glad you have it. What many travelers don't realize is that travel insurance covers a number of concerns including trip cancellation, during travel issues such as delayed flights or lost baggage, as well as, in-destination emergency medical cost reimbursement.
A Simple Case in Point:
Last year, we had clients whose daughter got a swimmers ear infection on the second day of the trip in Punta Cana. In the Caribbean, Mexico, and most other places you'll travel, you can't simply hand over your insurance card as payment for medial treatment...everything is on a cash or credit card basis.

In this case, the costs of the on-site resort clinic was $120. Then, the resort referred to the local hospital for treatment...another $280. Add in the cost of the ear drops at $30 plus $50 for the round trip cab fare and treating swimmers ear ends up costing almost $500! Without travel insurance, this client would have incurred all of this cost out of their own pocket for something as minor and unexpected as swimmers ear!
Who Should Buy Travel Insurance?
We strongly recommend that all of our clients purchase travel insurance. However, if any of these situations apply to you, you should DEFINITELY purchase travel insurance:
If you or a member of your family traveling has any type of heath related issues that would cause you to cancel the trip or seek medial treatment during the trip
If you have small children traveling with you or at home
If you have elderly parents with any type of heath issue traveling with you or at home
If you or anyone traveling with you have any job related uncertainty
If you or anyone traveling with you have any financial uncertainty
If you plan to engage in any "adventurous" activities during the trip where there is a risk of even minor injury
What is Included With Trip Insurance?
The primary reason most people buy insurance is for the trip cancellation protection. With our two main suppliers; Apple Vacations and Funjet Vacations, this means you can cancel for any reason* and get back all of your money (less, of course, the cost of the travel insurance). If you don't have insurance and have to cancel, you stand to lose a good part, if not all of the trip investment, due to the cancellation penalties.
What most people don't consider is that there is way more than cancellation protection included in your trip insurance price.

Here is a recap of all that is generally included:
Cancel for Any Reason*:
You may cancel for ANY reason prior to departure and receive a full refund less the cost of the respective Travel Protection plan. This coverage even covers normally non-refundable airfares and the refund is always made in the original form of payment.
* Cancel for any reason insurance not available for contracted Sandals Resorts groups. (Plan in this case includes covered reasons only).
Price Guarantee:
If the price of the hotel drops after booking the reservation, just let us know and we'll adjust the reservation to the lower price. Valid on Mexico, Caribbean, Hawaii and Central America vacations.
No Revision Fees:
Any revision fees for the FIRST instance are covered including hotel, airline and any penalties, so you won't be charged additional fees to make a change to your reservation.
Hurricane Benefit:
If a Category One or greater hurricane disrupts a vacation for 24 hours or more, travelers will receive a refund for unused or interrupted vacation nights plus a future vacation discount certificate. Valid for reservations departing June through November.
Then, in addition, there are a number of Post-Departure Travel Insurance benefits:
Trip Interruption Protection
Reimburses (up to the total trip cost) unused hotel arrangements plus additional costs to change or purchase a new airline ticket if you can't travel due to circumstances such as illness or injury to you, a family member, or traveling companion, jury duty, subpoena, or a traffic accident on the way to the airport.
Travel Delay Reimbursement
Reimburses additional transportation costs or unused hotel arrangements should your flight be delayed 12 or more hours due to weather, strike or other job action, or equipment failure of a common air carrier. The Funjet plan, for example, reimburses you up to $500 ($100 per day) for the unused portion of your trip, additional accommodations, meals and "catch up" transportation expenses.
Emergency Evacuation
Arranges and pre-pays the cost of emergency medical transportation if a serious illness or injury occurs during your vacation that requires medical evacuation.
Medical Expense Reimbursement
Reimburses medical costs should you incur hospital charges or other medical bills as a result of an illness or injury during your vacation.
Baggage/Personal Property Reimbursement
Reimburses you for baggage or items lost, stolen, or damaged during your vacation.
Baggage Delay Reimbursement
Reimburses for the purchase of necessary personal items if your bags are delayed by the airline for 24 hours or longer. The plan covers you for the purchase of necessary items up to $300 in the event your luggage is delayed by an air common carrier for more than 24 hours en route to your vacation.
Travel Accident Protection
Accidental death and dismemberment coverage in the event of loss of life or limb while flying.
What is the Cost of Travel Insurance?
The trip insurance prices vary based on the type of trip purchase, when you are traveling and the length of your trip.
Here are the prices for the Funjet Vacations All-in-One Travel Protection: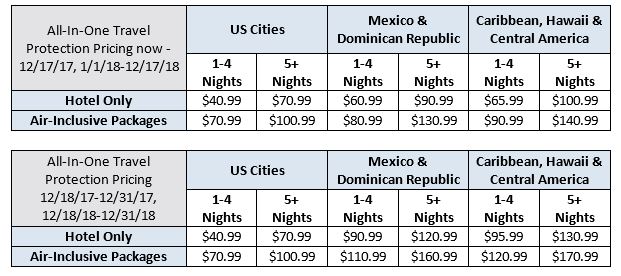 To view full policy details based upon your state of residence, please visit http://www.archinsurancesolutions.com/coverage/FHF/WWB
---
Charter Air Only $39.99 adult and child. Prices are per person.
Kids 2-17 are 1/2 price and infants are covered under parents' policies when all adults buy full coverage.
And here are the prices when you book Apple Vacations:
Note that the prices on Apple Vacations are slightly different. However, Apple does offers a less expensive option where instead of cash back, you get a travel credit that you can use to rebook your trip for a later date in the event you have to cancel.
When Do I Have to Purchase Travel Insurance?
For the benefits and inclusions that I have been highlighting here on Apple Vacations and Funjet Vacations, you have to purchase the insurance within 7 days of booking your trip. If after this time you decide you would like to purchase a travel insurance policy, we also work with insurance providers such as Allianz or Travelguard.
What Else Do I Need to Know?
"No Show" situations where the traveler does not check in or is denied boarding to the flight are not covered.
Flights not purchased through us as a part of your vacation package are not covered
If the number of individuals occupying a room decreases, the remaining travelers will be responsible for additional costs incurred as a result of a change in room rates due to the change in the number of occupants.
If you should have additional questions about booking your beach vacation or about the travel protection plans, please don't hesitate to call our office at 877-404-4228
or e-mail info@SunsationalBeachVacations.com